Piggy Bank Math - a fun way to learn about coins and math
Adding and subtracting coins has never been easier to learn with these simple and fun games. There are different coin levels to choose from (penny, nickel, dime, quarter, half dollar, or dollar).
Click
Piggy Bank Math
to view in iTunes.
Piggy Bank Math
Drag Me - count coins by dragging them on the table and tapping the register to see if you are correct. If so, those coins get added to your piggy bank.
Choose Me - simple math equations with 5 possible answers.
Piggy Bank - for every correct answer from either game, you collect money in your piggy bank. How much money have you collected?

---
Drag Me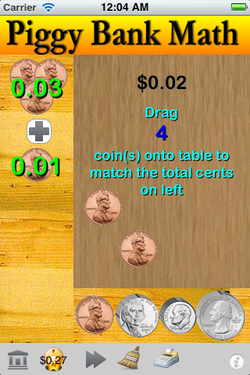 Drag coins onto the table to match the coin equation on the left.
Tap the Register to see if you are correct.

Tap the Broom to clear the table
Tap the Arrow to skip to next problem
---
Choose Me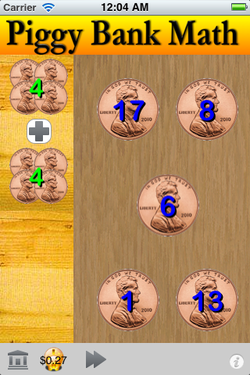 Select a coin with the correct answer to the problem on the left.
---
Piggy Bank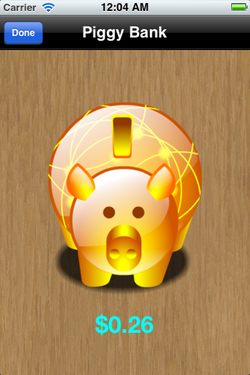 A fun way to see how much money you've collected from all of your correct answers

---